Landscaping isn't just about having the right selection of trees, shrubs, and flowers, it's about creating an entire scene that looks cohesive and natural. At Top Care Ground Control, we believe in getting those little details right, but we also believe they need to fit into the bigger picture.
Just like building a house depends on a strong foundation, creating a beautiful landscape relies on the condition and shape of the soil.
If you are struggling to work around certain ground features or you have an ongoing issue with irrigation or water runoff, landscape grading can give you the control and freedom you need.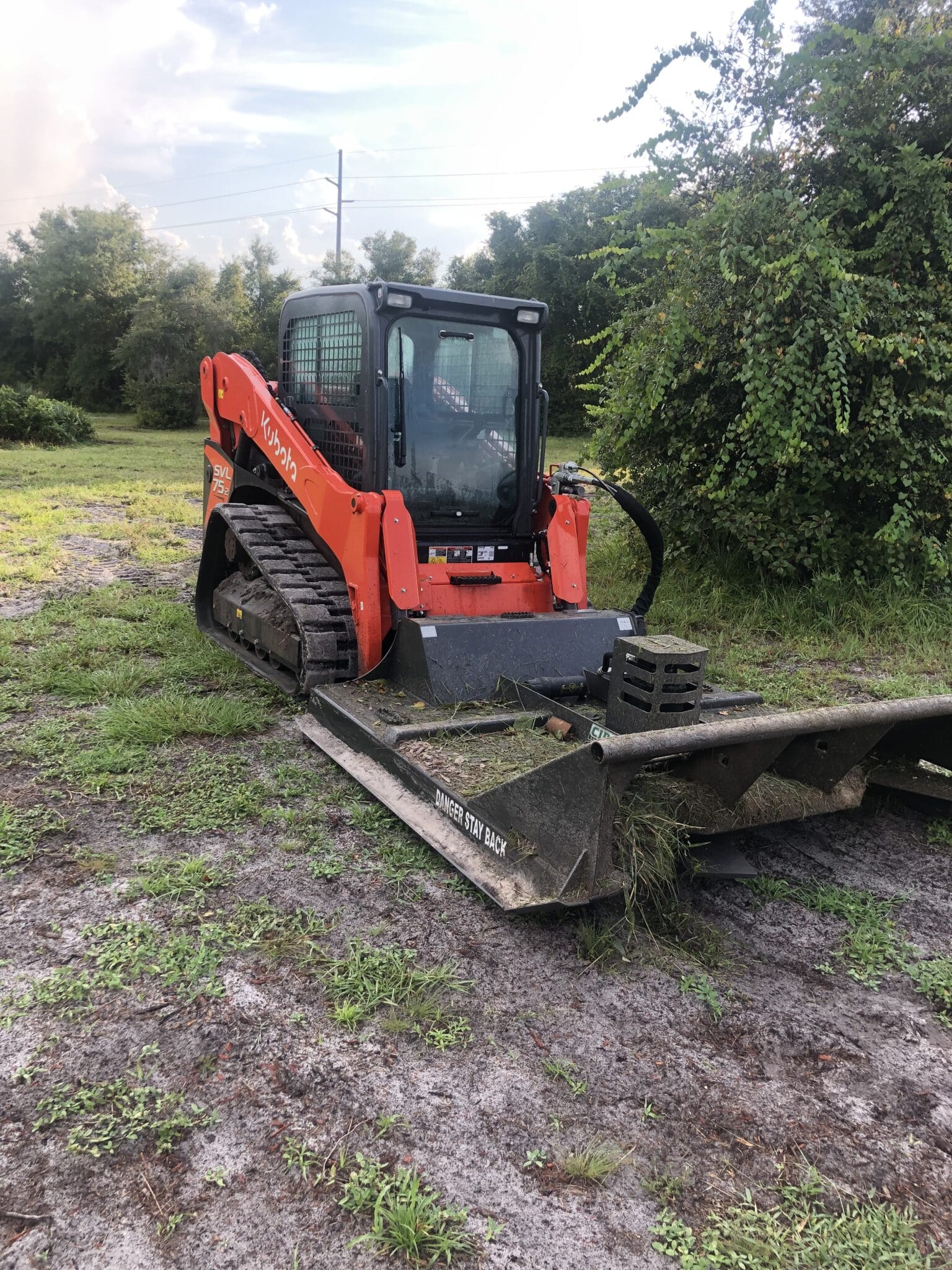 Landscape Grading
Professional landscape grading can fix many of the issues you may be having with your property:
Improper Drainage
Erosion
Waterlogged Plants or Soil
Water Intrusion
Stump Removal
And More!
Whether your landscape was improperly graded from the beginning or has settled and shifted over time, Top Care Ground Control can resculpt your space for optimal results.
Alternatively, you may have some grander ideas in mind for your home or business. We can help with that, too! Our Bobcat services can create barriers and berms, level the land, or clear it to prepare for the next phase of your project.
Call Us Today
407-406-5945
Landscape grading is both an art and a science. Every aspect of the property must be taken into consideration—from aesthetics and the health of your plants to the safety of the building.
It is very likely that your current office, warehouse, storefront, or
HOA community
was built for expediency. Over time, as the land has settled and nature has made her mark, things may need a little resculpting. As a landscape grading contractor, Top Care Ground Control can put the land to work for you—literally! Our work is reliable, professional, and 100% beautiful.
During certain times of the year, excess water poses a huge problem for Florida homes and businesses. Even an average summer thunderstorm can drop as much as five inches of rain in just a few hours.
But while record rainfall does wonders for our lawns, it can also leave them prone to pooling water, waterlogged roots, and—if the land slopes the wrong way—water intrusion in nearby buildings. If the ground slopes toward the foundations, that is where water will pool. Eventually, it will find a way in. Land grading can correct this issue so that water flows away from your building. In addition to Bobcat services, we can also install French drains to deal with any waterlogged areas. Who knew that being left "high and dry" could be a good thing?
Time to expand your parking lot? Or maybe you've had enough of the jungle that's overtaking your office building.
Whether you have plans for the space or just want that eyesore gone, our land clearing services will create a blank canvas that's ready for a landscaping masterpiece! At Top Care Ground Control, we're more than a "lawn service"; we're ready to completely transform your green space. Our commercial Bobcat services combine land grading,
tree removal
, and stump removal for quick results. You see a mess. We see potential.
We Leave No Stone Unturned
At Top Care Ground Control, we're equipped to handle any size landscape grading job and leave your property better than when we found it.
Many times, we will be using a Bobcat skid steer to grade your land. This piece of machinery is strong enough to pack a punch, but lightweight enough to leave the rest of your land intact. Plus, it's endlessly customizable, so we can get the job done faster and more efficiently.
The health, beauty, and vitality of your landscape should start with the topography of your land. An excellent landscape grading or drainage contractor can give you the benefits you're looking for.
Let's Talk About Your Landscaping Needs